Thanks for stopping by. We're getting a sneak peak at some of the new equipment that will be introduced in Orlando next week and it's pretty exciting. Adams Golf has announced that they have teamed with a South Korean company to bring the DiXX Digital Instructional Putter to North America.
This is a pretty cool idea. The DiXX uses sensors inside the head of the putter to collect data on the putting stroke. It then displays all of the info on a small screen on the head of the putter. The putter can then tell you all that's right (or wrong) with your stroke. It gives the golfer feedback on their swing path, impact position, temp, face balance and speed balance of the stroke.
The DiXX will make it's North American debut at the PGA Show next week so I'll be sure to stop by the booth and check it out for you. It will be available March 1st and will carry a suggested retail price of $1000 USD.
Here are a few pictures… I'll be sure to get more next week and the show!
DiXX Putter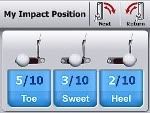 DiXX Screen Shot – Impact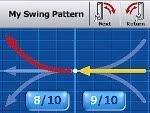 DiXX Screen Shot – Swing Pattern
In other pre-Orlando Show news… Trion:Z has employed instructor David Leadbetter to promote their product. Leadbetter will appear in the company's advertisements and merchandising materials and Trion:Z products will also be available in Leadbetter's Academies. Trion:Z has really taken off since it's introduction at the 2006 Orlando Show. Leadbetter will be formally introduced at a Trion:Z press conference next week in Orlando… a press conference that we'll be sure to attend!
That's all for tonight… thanks for all of the support and we'll talk to you tomorrow!