Hey everyone. We've talked a bit about the new Cleveland HiBore irons and now we've got some pictures and info to share. The odd picture has made it's way onto the net already and it's very obvious that these irons are designed for the higher handicap looking for a stable and forgiving iron.
First… some quick facts….
– We'll see the HiBore irons in stores starting at the end of January… Feb 3rd is the official launch date although they will be shipped earlier than that. They'll be in the $599 USD steel and $699 USD graphite range.
– The stock shafts will be the HiBore Silver graphite (co-designed by Graphite Design) and the True Temper Action Lite SL steel.
– The irons feature the same Inverted Crown technology used in other HiBore products. This draws the center of gravity lower and deeper into the head.
– The set also features a progressive sole width… the soles of the longer clubs are wider than those found on the shorter ones. The 3 and 4 irons also have some bulge and roll… something usually found in woods. This helps with control.


Progressive Sole Width

Side View Close Up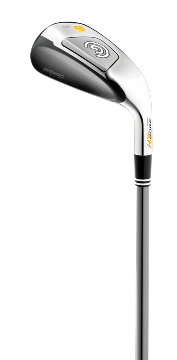 Back View
Speaking of Cleveland Golf… Vijay used the new HiBore XL driver in his win over the weekend. A great way for Cleveland to start the year and some great press for the soon to be released driver!
That's all for now… have a great night and we'll be back tomorrow with my 2007 predictions!!